Thomas Pollinger
05.10.2016
DE/EN
Schon gewusst? "Doppelte Elemente reparieren"
Seit Management Server 11.2 Service Pack 1 Hotfix 7 wird ein Plug-In mitgeliefert, welches ein sehr seltenes Verhalten innerhalb älterer Projekte korrigiert. Diese Info steht nur in den Release Notes und daher gibt es nochmals diesen gesonderten Hinweis. Hier nun der original Text aus den Release Notes:
Plug-in Repair Duplicate Elements
The Repair Duplicate Elements tool, that has already been available as a support tool, has been converted to a plug-in. It is available with a standard installation of Management Server.
Which problems can be resolved with the tool?
Duplicate elements in a page based on same content class element could have been created in older versions before or equal to version 10 by publishing a page in parallel (by publishing multiple
language or project variants) after a new element has been created in a content class. The duplicates can be seen in SmartTree but not in a page preview/SmartEdit.
How to install the plug-in?
The plug-in can be installed in Plug-In administration in Server Manager. The node Server Manager/Administer Projects/Projects node is preconfigured as default target and should not be changed.
Automatic correction
Select the project which should be repaired. The option "Merge values for containers and lists if possible" can be selected for merging of all pages from duplicated lists or containers to one of this elements.
In a first step, the plug-in resolves all duplicate issues that can be resolved automatically. Duplicate content elements are automatically deleted if the values of the elements are redundant or empty. All language variants will be checked. If for example the value of one duplicate in language variant A is empty and for language variant B it is not empty, and for another duplicate the opposite is true, no duplicate can be automatically deleted.
Duplicated structure elements without pages or links connected, will be automatically deleted. If duplicate structure elements are connected to the same set of pages or if one of them is connected to a subset of pages of the other element, the duplicated elements will also be automatically repaired. With the option "merge values for containers and lists if possible" selected, values of structure elements will be combined in one element if possible.
The process of automatic deleting duplicate elements can take several minutes or, depending on the project size, even up to some hours.
As result of the execution, the plug-in lists:
elements that have been repaired automatically,
elements that could be repaired manually, and
elements that cannot be repaired.
It is possible that not all content elements can be repaired automatically, for example if element value differs for one or all languages. Those elements can be repaired manually.
Manual rework
In a second step, the user is guided to resolve the remaining issues manually. The plug-in lists duplicates that need to be handled manually, so that the user can decide which duplicates should be deleted. The decision should be done based on expectation or current preview of the page with the duplicate element. Only content elements can be repaired this way.
Duplicated structure elements that cannot be automatically deleted cannot be repaired with this tool. It is necessary to manually repair those duplicates in SmartTree and run the plug-in again for final checks.
Preliminary steps and precautions
Before executing the plug-in for a project, it is recommended to create a database backup of the project. During the execution, no user or tool should work on the project and it should be locked for everyone. If possible, do a full site publishing before the execution of the plug-in.
After executing the plug-in for a project, clear the page cache in the project and do another full site publication. Check all changed pages or check the differences of all pages, manually or with a comparison tool.
Quelle: Release Notes ab 11.2 Service Pack 1 Hotfix 7
Nützliche Informationen zu diesem Support-Tool
Die Installation erfolgt wie bei einem regulären Plug-In für den Management Server (RedDot). Jedoch mit dem Unterschied, dass es nicht im SmartEdit oder SmartTree auftaucht, sondern im Server-Manager. Das Plug-In wird ab Version 11.2 Service Pack 1 Hotfix 7 automatisch in das Plug-Verzeichns des Management Server abgelegt.
---
Navigationspfad: ► Server Manager ► Start ► Plug-Ins verwalten ► Plug-Ins ► Plug-In importieren
---

Sobald das Plug-In installiert und auch aktiviert wurde, findet man den Aufruf im Server Manager an dieser Stelle im Aktionsmenü: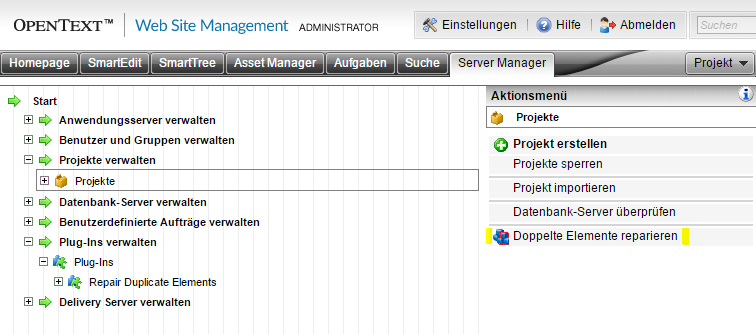 Wenn man das Plug-In aufruft, sieht der Dialog wie folgt aus: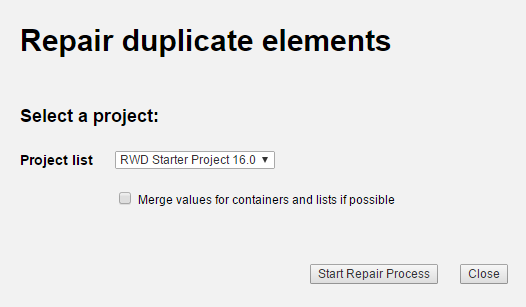 Hier wählt man nun das betroffene Projekt aus und folgt nach klick auf "Start Repair Process" den Anweisungen innerhalb des Dialogs.
---
Empfehlung: Bitte zuvor auf jedenfall einen Projektexport und auch ein Backup der Datenbank vornehmen!
---
Fazit
Es ist immer gut, wenn man kleine Helfer in Form eines Plug-In direkt bei Auslieferung der Software dabei hat. Auch wenn man dazu aufmerksam die Release Notes lesen sollte, damit man an diese Infos kommt. Jedoch dies kann nie schaden und es stehen ja auch in diesem Dokument noch zu anderen Themen wichtige Hinweise. ;)
Sollten noch weitere Fragen zu dem Tool bestehen, kann man sich direkt an den OpenText Customer Support wenden.
---
Weitere ergänzende Informationen dazu findet man auch in der Online-Hilfe unter:
Handbuch: Server Manager / Kapitel: 8 Plug-Ins verwalten
Handbuch: Server Manager / Kapitel: 8.1 Plug-Ins
Handbuch: Server Manager / Kapitel: 8.1.1 Plug-Ins importieren
Handbuch: Server Manager / Kapitel: 8.1.2 Plug-In Import-Bericht
Handbuch: Server Manager / Kapitel: 8.1.3 Plug-Ins bearbeiten
Handbuch: Server Manager / Kapitel: 8.1.4 Projektzuordnungen bearbeiten
---
Über den Autor:
Thomas Pollinger
... ist Senior Site Reliability Engineer bei der Vodafone GmbH in Düsseldorf. Seit dem Jahr 2007 betreut er zusammen mit seinen Kollegen die OpenText- (vormals RedDot-) Plattform Web Site Management für die deutsche Konzernzentrale.
Er entwickelt Erweiterungen in Form von Plug-Ins und PowerShell Skripten. Seit den Anfängen in 2001 (RedDot CMS 4.0) kennt er sich speziell mit der Arbeitweise und den Funktionen des Management Server aus.