enthink: SmartForm
The easy way to create forms in minutes
SmartForm is an exciting add-on to the OpenText Web Site Management solution (formerly RedDot). This tool allows content editors to design forms, quickly and easily, from ready-made templates or customized fields. Using an intuitive "What You See Is What You Get" (WYSIWYG) interface, users drag and drop fields to create customer contact, information request, survey, feedback and rating forms. Additional forms can be developed using existing styles for a consistent look and feel.
Demo
Overview
SmartForm innovative features include:
WYSIWYG interface
Drag and Drop fields
Form creation interface
RedDot security model
Synchronized element alignment
Out of the box mail and database handler functionality
Active work space
SmartForm supports out of the box mail and database handler functionality with no additional development. SmartForm also works with your current handler or any form handling script.
Supports Standard Form Fields:
Labels
Spacers
Text Fields
Text Areas
Drop Downs
Radio Buttons
Check Boxes
Buttons
Supports Field Validation:
Currency
Integers
Numeric Range
Character Length
E-mail
Numeric
Alphabetic
Alpha-numeric
Special Characters
Custom Validation
Custom Error Messages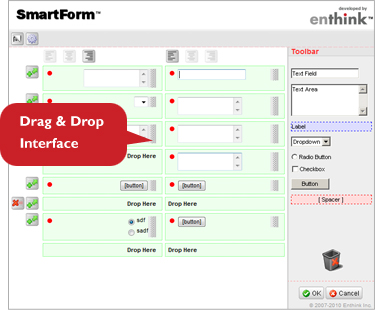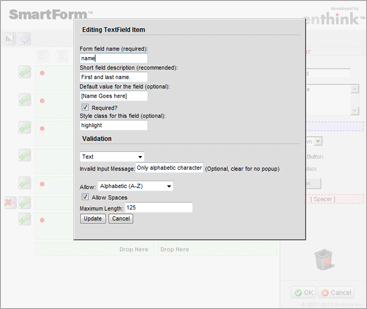 To watch a demo of SmartForm, please login to your Resource Center account. If you don't have an account, please register for an Enthink account today.
You can find out more about how SmartCal can help your organization be more successful in communicating important information by contacting Enthink at info@enthink.com.
---
Source: https://enthink.com/products/smartform
© 2017 Enthink Inc. All Rights Reserved.