enthink: Translation Bridge
Translate content into any number of languages at once
The Translation Bridge is an OpenText Web Site Management solution (formerly RedDot) plug-in that allows an organization to manage the content translation process. This product queues content identified for translation and exports it on demand or through an automated scheduled process. Translators no longer need to be familiar with the CMS system and external translation sources are able to translate content using their own translation tools. Once translated, the content is easily imported back into the system and the translated pages are created.
Overview
Key benefits include the ability to:
Lower your translation costs
Bulk export content to be translated
Have your Editors tag what languages the content should be translated to
Leverage translation memory
Perform scheduled or ad hoc translations
Complete a one step import of content including the automatic building of all pages
Eliminate translating page by page
Eliminate translating language by language
Archive textual content offline (out of CMS)
Simplify set up process by leveraging your existing taxonomy
Filter and sort content by language, creation date, title, etc.
Have flexible options for importing content including storing in draft, moving through workflow or for immediate release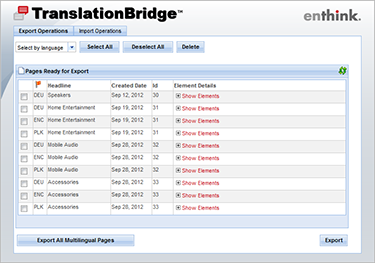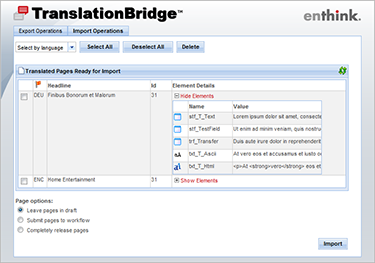 To watch a demo of Translation Bridge, please login to your Resource Center account. If you don't have an account, please register for an Enthink account today.
You can find out more about how SmartCal can help your organization be more successful in communicating important information by contacting Enthink at info@enthink.com.
---
Source: https://enthink.com/products/translation-bridge
© 2017 Enthink Inc. All Rights Reserved.