enthink: Workflow Manager
Giving the power back to the content creators
Workflow Manager efficiently govern content while increasing the speed of web strategy delivery. This product introduces an easy way to build and apply workflows and authorization packages without administrative involvement. Utilizing an intuitive interface, authors and editors create and implement pre-built packages to each page created in CMS.
Overview
Key benefits include the ability to:
Build or apply workflow and authorization packages without an administrator
Increase the speed to build or apply workflow and authorization packages by up to 95%
Remove the need to predesign workflows and authorization packages
Eliminate errors
Create ad hoc workflows
Lower cost of development and maintenance
Leverage the existing RedDot security model
Maintain full administrative control over which authors can access which workflows or what new workflows can be created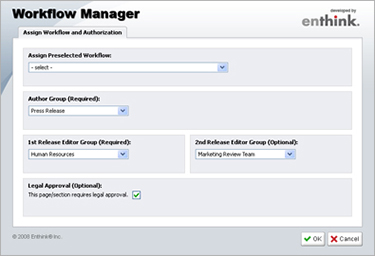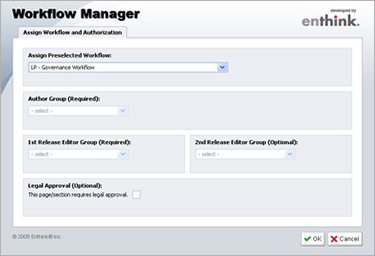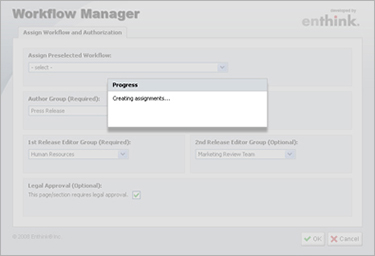 To watch a demo of Workflow Manager, please login to your Resource Center account. If you don't have an account, please register for an Enthink account today.
You can find out more about how SmartCal can help your organization be more successful in communicating important information by contacting Enthink at info@enthink.com.
---
Source: https://enthink.com/products/smartcal
© 2017 Enthink Inc. All Rights Reserved.