Manuel Schnitger: RQL - Sample dialogue
written by Manuel Schnitger, 24. February 2011

As you might have noticed, I didn't use dialogues that look like the original Management Server dialogues but more plain and simple popups/windows. The reason for that was that I wanted us to focus us on programming RQL…..not HTML ;) But of course noone likes ugly dialogues. So therefore I've just created a sample dialogue that looks exactly like the original Management Server dialogues and posted it at SolutionExchange.info.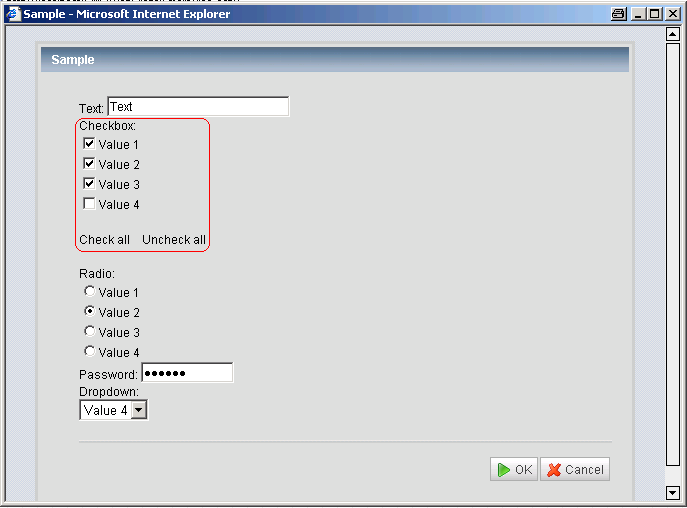 Figure 1: Sample Dialogue
As you can see on figure 1, the sample dialogue already displays HTML elements you might use in some of your plugins. Just delete the ones which you don't need and this part of the programming stuff is ready.


Figure 2: Sample Dialogue
Figure 2 shows the dialogue after the form has been submitted. As you can see, the form values are requested and displayed. You will probably not just want to show the values but do other things with them but I thought, that it would be a good idea to finish the sample this way.
If you would like to check the sample dialogue just do the following steps:
Step 1: Under the plugins directory create a folder called "sample".
Step 2: Extract the zip file and put the content in the just created folder.
Step 3: Import the plugin via the Server Manager.
Step 4: Activate the plugin and assign it to a project.
Step 5: Enter the SmartTree mode, click on the project start node and call the plugin.
Ready.
If you should have questions or if the plugin (sample dialogue) does not seem to work then just leave a comment and I'll try to help.
If you should be interested in more plugins then visit www.SolutionExchange.info. This is the community plattform of the Website Management Group (fka RedDot).
And last but not least… if you would like to discuss ideas regarding RQL or any Website Management related stuff then just visit the Solution Exchange forum.
Have fun with RQL!
---
Source: RQL – Sample dialogue
© copyright 2011 by Manuel Schnitger