RedDot CMS Blog
01.03.2018
EN
OpenText enhancements with the rdQuery Framework – Finally RedDot CMS with less clicks!
I have been enhancing RedDot projects using custom scripts for over 8 years now.
A lot of RedDot CMS developers have a great understanding of Javascript and CSS.
So here's my nifty little gift for you.
Download
Fork the entire plugin including demo OpenText project from GitHub.
---
Screenshot #1 – All page information easily accessible

The toolbar displays details around page creator, last update, page ID and a range of SEO settings. It also allows to send an email to the current editor of the page containing basic information about the page.
Screenshot #2 – Page creation with simple template selector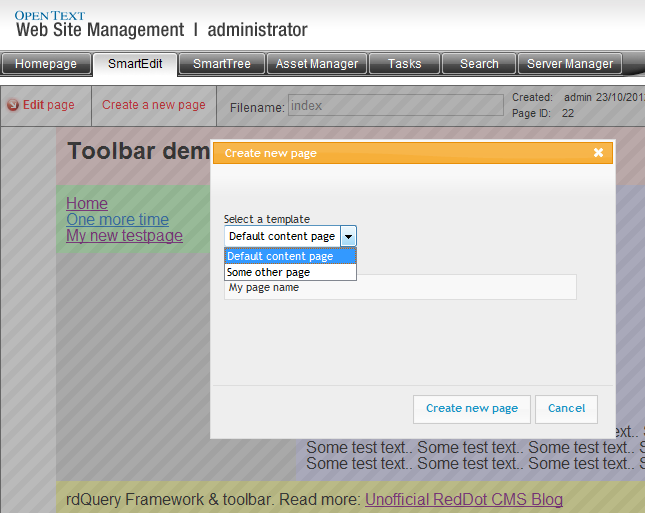 With just one click (no open page / close page / select template, etc rubbish) a page can be created. This saves up to 7 clicks per page created.
Screenshot #3 – Create content blocks with one click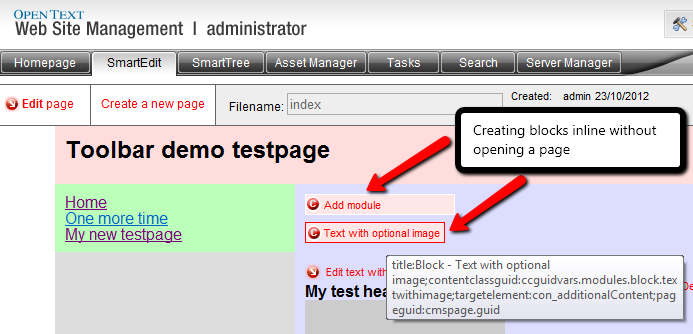 The same goes for content blocks, the number and type of blocks can be controlled via a simple content class.
Screenshot #4 – Content block status and delete with one click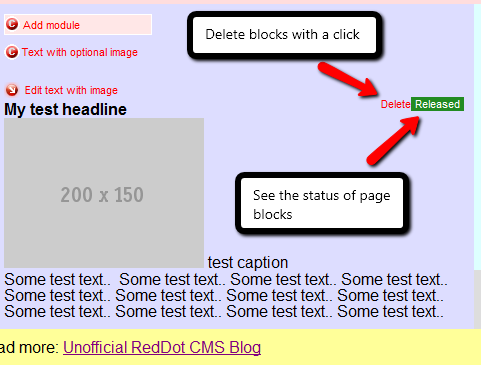 Without opening a page block one can now see the release status and the removal of a block is a one click task. (Note: This can be deactivated of course)
---
The idea for this was born around 2008/2009 and Kim Dezen already had his own version published a while back. I wanted a simple to integrate option with only a few lines of code. So here it is. Free for everyone to use, make sure you share enhancements via Git.
---
Requirements
OpenText v11 (can also work with 7.5, 9 and 10, just look into the source code)
A small change to the web.config but maybe Jian knows a better way
Javascript and CSS knowledge
Videos