RedDot CMS Blog
27.09.2019
EN
rdb: 1 Quick RedDot CMS SmartTree Preview Trick
Sometimes you don't need to see a full preview of your site, you just want to reload the fragment of the RedDot CMS page you're currently working on.
When you're in SmartTree mode just hold down the "Shift" key and click on "Page Preview" in the action menu and voilà – the popup only shows the CMS page part you're working on.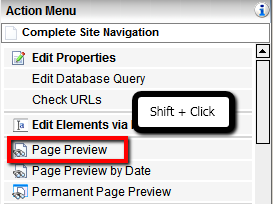 This is helpful if you just need to test a part of your page and don't want to wait for the full page to be loaded.