yellowpencil: Invest in your website - invest in your future
A 6 minute read, written by Jillian
August 13, 2014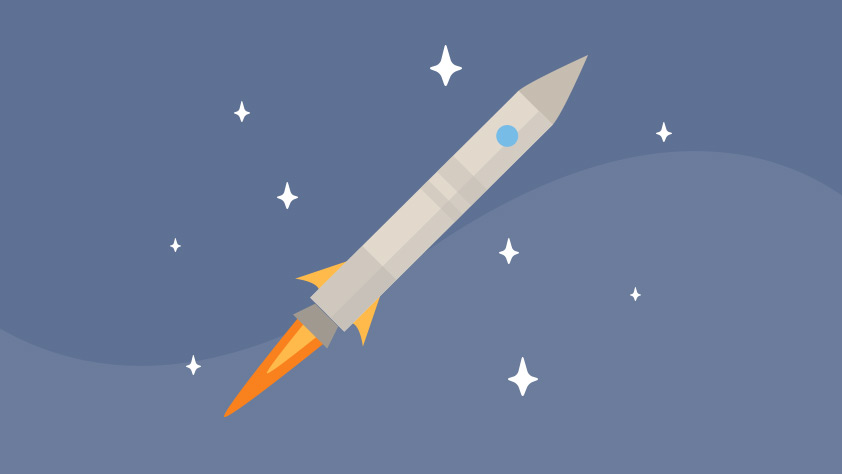 Me: "What was that?"
You: "I'm not sure. I didn't get a good look at it, but here's version 8.0 of whatever it was."

Change comes as surely as the seasons
Unless you've been living under Abe Lincoln's eyebrow on Mount Rushmore for the last decade, you know the above rings true. And whether you're a global giant or a small organization with big web needs, we all experience these changes in technology.
It seems almost impossible to keep up. And just when you think you're as up-to-date as you can be with your CMS, WAI, and SEO – BAM! You're two content strategies behind and using functionality that is C++.
By the light cycle of Kevin Flynn (circa 1982), that's a lot to handle! So just how can you maintain an up-to-date website that will meet your customer's needs, your organization's needs and stay relevant in an ever-changing world?
You can't.
Just kidding! You totally can. Here's my advice on how to do just that.

1: Your website is an investment – so invest in it
The web isn't going anywhere, so it makes sense that your website is a solid investment.
Your first step is to invest in an expert web agency. Your advertisement or RFP literally should read "We want a vanguard of the web. If this isn't you, no need to apply."

Finding a vanguard
Like any good Canadian, I'm going to define a vanguard by referencing hockey, specifically The Great One, Wayne Gretzky. He said "A good player plays where the puck is. A great player plays where the puck is going to be."
That to me is a perfect example of a vanguard. They stay ahead of the game because they are forward-thinking and dedicated to what they do. They are a leader who is continuously winning in their field. They are pioneers who never stop exploring and learning. What seems radical is progressive innovation. Finally, a true vanguard wants everyone to succeed and so they empower those around them. It's why they can claim the name. They cannot lead if they are not followed, they cannot captain without a crew.

What will a vanguard of the web look like?
They will:
Demonstrate how they are leaders of the web industry through a robust portfolio that showcases solutions, innovations, results and solid references
Present comprehensive skill sets and solutions to meet your unique wants and needs
Offer a clear and forward-thinking perspective of your current web needs and future possibilities
Likely wear glasses - true story
They will talk the talk and walk the walk. When it comes time to meet your potential vanguard candidate, what they have submitted to you on screen or paper should feel the same as what they are presenting to you in person.
They will feel familiar. Trust your instincts and remember like attracts like. You'll know a vanguard because they will have that familiar mix of knowledge, experience, vision and passion.

2: We built this city on dots and code
Because who doesn't love an analogy pulled from a super-fun 80's tune? Starship gets it. And now We Built This City is stuck in my head. There are worse things. Moving on.

It's not just a screen of pretty, it's a virtual city
Think of your website as a city in a world wide web that is both vast and deep. Tech territory is still being pioneered, mapped and expanded on. This is why you absolutely need a vanguard of the web. Investing in experts means your web team has the ability to help you build your city, put it on the map and support its growth.
"Website" is basically a seven letter word for the digital infrastructure that makes up your virtual city. It's frigging complex and that's a good thing. Especially if you intend to use your website to its fullest potential. And it has SO MUCH POTENTIAL. Your vanguard knows this, is experienced in these complexities and is excited to break ground with the right technology stack that meets your needs.
Just like any city, you need thinkers, planners, makers, and builders. The result will be that your web agency has built the roadmap of your city with you, from its foundations, and can help you maintain the infrastructure. They will know the ins and outs and give you the ability to minimize the futile and maximize the fantastic.

3. Make it less about redesign
Why on earth should you rethink redesigning when it's sometimes all you can do to keep up with all the constant competition of emerging web wants, needs and trends out there?

Think long term - this is where your ROI comes in
The method is simple: you + your web agency = sustainability. You've got to make like Spielberg and think about the future. When you invest in a web expert, it becomes less about overhaul and more about updating as you expand your digital boundaries and capabilities.
Chances are you will reach out to an agency for a build or redesign. If the successful candidate is truly a vanguard, they will bring you to your best web performance and help you grow from there. They want you to win at the web. Because when you win, they win. It's their job to be out in front of the web industry and it's your job to dream about what you want. When you have the right partner, somewhere in between these two places is where the magic happens.

Meet the three new R's of web - refresh, refocus and reinvent
An experienced web agency may come with a higher premium in your proposal stage, but if they are truly masters of their craft, they will be one of your best investments for the future. Remember, the web isn't going anywhere. Redesigns come with a heavy cost, and moving your services to other companies often creates new problems for you and your customers. In some cases, everyone involved has to relearn everything. Consider that your staff will be paid to learn your new site, your customers won't be.
With an expert web partnership, you create sustainability via the three R's:
Refresh: bringing new life to a familiar setting (visual, user experience, functionality, etc.)
Refocus: ensuring alignment (of brand, customer needs, organization's mission, etc.)
Reinvent: the energizing result of refreshing and refocusing
With the support of your web experts, refreshing and refocusing as needed can bring the new and intriguing experience your web world needs to stay ahead of the game while still feeling familiar to your users. You reinvent, not redesign, and a new energy emerges confidently.

4. You say you want a webolution
Song analogies. All day long.
Web + evolution = webolution. Write that down. It's a winning formula and it's the best way to view your web world. Here is why.

Your web project is a chapter, not the end of a story
You've made the investment in a vanguard of the web, worked diligently to uncover wants and needs. They've helped bring your organization to a place of near digital perfection through discovery, design and development. Things are bright, shiney, new and everyone has those goose-pimples you get when you see those military reunion videos on YouTube.
So what's next?
Everything! Don't freak out, that's a good thing. It's webolution. Your expert web partner knows that the launch of your website isn't the end, it's just the beginning. A true vanguard will create a platform that can grow, expand and excel as your business grows. They will ensure that your organization's web world is ready for new technology, innovations and opportunities. Most importantly, they will empower you to captain your own web experience and take the role of your first mate. They'll provide you with a solid digital strategy and will navigate with you as you implement pieces of this plan.
But you can't plan for everything. And sometimes, you don't want to. Allow room for sparks to fly, so to speak. It's always great when relationships have that freedom to evolve and expand in new directions. You know what your organization needs and your ideas for those needs may spark new innovative functionality that your web partner can produce.

5. The best part of this post
We are your father. Wait. What?
Ok, we're not your father. But we are vanguards of the web and masters of our craft. Our team can be your web partner and help you reach your best web potential, from now to infinity. It's how we do.
If you're looking to create a new web experience for your organization, we can help you build that from the ground up. We'll grow with you and your site, helping you keep relevant and remarkable in this ever-changing web world (you don't even have to use the www anymore, for crying out loud!) And if what you need right now is a redesign, we'll help get you to that practically-perfect web presence and functionality, finding new ways to reinvent ourselves as we grow.
So get in touch and let's create that web magic I was talking about. The possibilities are endless!
---
Source: Invest in your website, invest in your future
© copyright 2014 by yellowpencil